John Jeffries
Liveline Cables
I have been working with Liveline for over 15 years and it is my preferred choice in my system.  Several other cable products have found their way into my system during that time but the Liveline has remained and has not been up-staged but some pretty heavy competition.  During the last 6 months I have upgraded the STD Liveline cables throughout the system with their Reference products and found the up-grade to be far more beneficial than expected.  Not wishing to go overboard but the upgrade in my opinion is as good as a substantial component upgrade to the tune of £5-10K for each item.  This new Reference cable produces a more silent background, more space around just about everything, more dynamics and more music.  I am supremely confident that this product, the STD or the Reference will show an incredible improvement to your system on just about all areas of music reproduction and I am backing this up by offering a home trial with a full refund of a required deposit payable if the rewards are not to your satisfaction.  Please see below for how to audition whichever cable you are interested to try.  Livelive are not budget cables but not reaching the very high prices that is being asked for some products available today.  Trust your ears, you will not be disappointed.
ABOUT LIVELINE CABLES
Just about the most hyped components in your hi-fi system with innumerable makes, types and performance claims that challenge the sceptics to test their patience. However, I have worked as noted with Liveline cables for some 15 years and still find their performance easily justifiable when an easy improvement is targeted. The relatively new Reference series has now graced my system with just that substantial improvement most of us are looking for. However, I had not tried the latest Reference mains cable till recently. Astonishing is the only adjective necessary. I have experienced many different cables over the years including some highly rated mains cables with some good effect but now the margin has widened. On trying just 2 of these mains cables in my system I am astonished how much they have lifted the performance. Greater detail, more black and white, more silence and transparency and just what I had been looking for to take my system to a new level. It comes at a price, £1325 for a 2m piece, but I am offering a full money refund (less postage) if it doesn't do in your system what it has done in mine, and at a special opening price too of £850. Still a lot of money ? It sure is but so is your hi-fi system and if you're at this level, it will surely be worth it. Call me to take advantage of this special trial offer.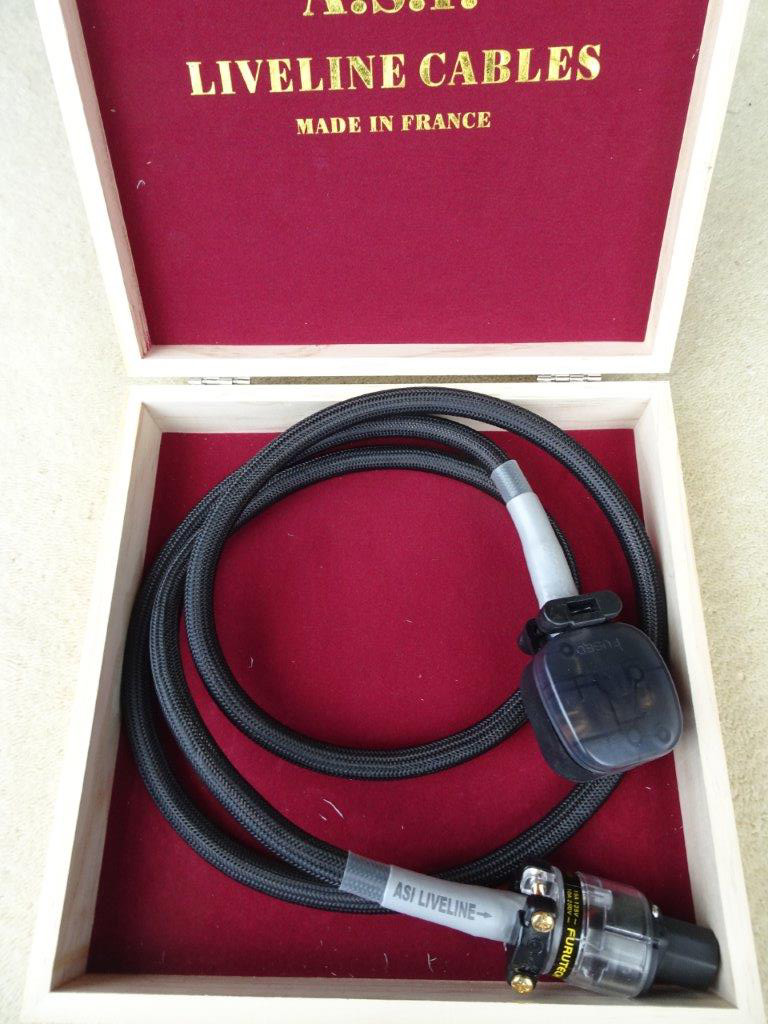 Pricing
| | | | |
| --- | --- | --- | --- |
| LIVELINE STD SERIE INTERCONNECT | 1M X PAIR RCA | £620 | OTHER LENGTHS POA |
| | 1M X PAIR XLR | £875 | " |
| LIVELINE REFERENCE INTERCONNECT | 1M X PAIR RCA | £1100 | " |
| | 1M X PAIR XLR | £1625 | " |
| LIVELINE STD SERIE SPEAKER CABLE | 2.4M PAIR | £1250 | DOUBLE FOR BI-WIRE OTHER LENGTHS POA |
| LIVELINE REFERENCE SPEAKER CABLE 2.4M PAIR | 2.4M PAIR | £2500 | " |
| LIVELINE MAINS CABLE | 2M LENGTH | £1325 | |
| 50% DEPOSIT FOR ANY MIX FOR A ONE MONTHS TRIAL. FULL REFUND SUPPLIED ON GOODS RETURNED IN PERFECT CONDITION. BALANCE DUE WHEN NEW ORDERED CABLES SUPPLIED. | | | |
| 15% DISCOUNT ON ALL OF THE ABOVE FOR 2 OR MORE ITEMS. | | | |
John recommended I should try some new cables recently so the first trial came with a pair of Reference XLR interconnects.   I did not think cables would make so much difference and although I have been working with many attempts to improve my system over the years, this is the first time the improvement has outstripped my expectations for such little effort.  Just amazing.
DS, Eastbourne
John's always excellent advice lead me to try ASI LiveLine STD Serie interconnects (RCA) and the results have been simply outstanding. Among the many fine attributes of this remarkable cable is its unique ability to lift a veil from the sound and communicate the musicality of the recorded performance with all its subtlety, emotion and power. Breathtaking. An essential upgrade for any system.
PS, County Durham